Goodnight Goon Book Companion for Speech and Language Activities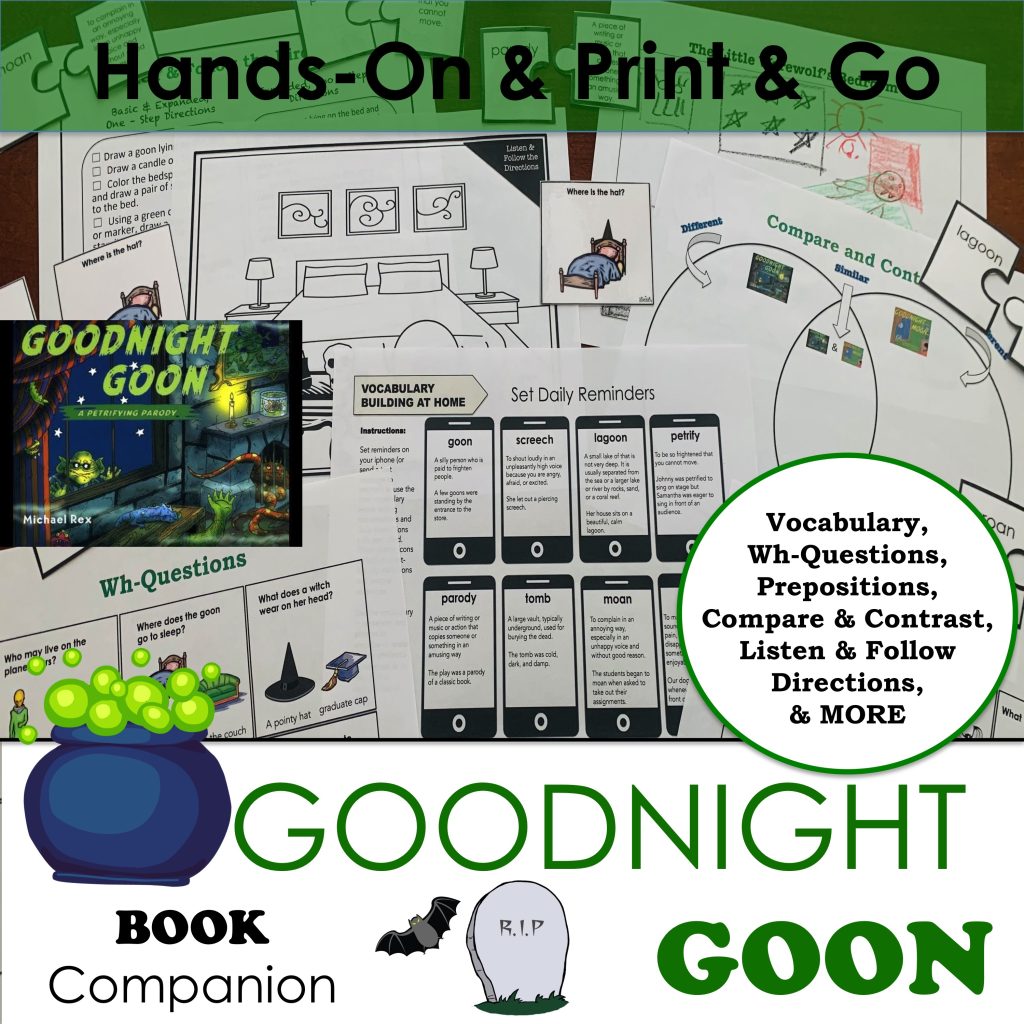 Goodnight Goon is a parody of one of the best selling books of all time, Goodnight Moon
. It's about a little werewolf who's ready to sleep in his cozy little tomb except a goon is running amok and causing mischief.
Goodnight Goon by Michael Rex is the perfect book for children receiving speech therapy from preschool through 3rd grade.
Amazon Affiliate Links included for your convenience.
I like using this book in my speech therapy sessions, for some of the following reasons:
The /g/ sound

It provides many opportunities to practice the /g/ sound.
I call the /g/ sound the gargling sound because it is a sound made in the back of your throat. The back of your tongue elevates to reach the back of the soft palate. If you are targeting the /g/ sound with a little one, you may also like my other product, Good Night and Good Morning /g/.

Vocabulary

Goodnight Goon also includes many tier 2 vocabulary words like parody, petrify, goon, lagoon, screech, tomb, moan, and groan.

Comparing and Contrasting

If a child is already familiar with Goodnight Moon, he or she may naturally realize the similarities and differences. Therefore, reading Goodnight Goon before or after reading Goodnight Moon, provides practice comparing and contrasting the differences and similarities between the books. Comparing and contrasting is an important skill needed for critical thinking.
Because I liked Goodnight Goon so much, I made a book companion to specifically target various speech and language skills.
This 40-page book companion for Goodnight Goon will further expose your student to the tier 2 vocabulary that is playfully featured in this book. Additional activities and worksheets target the following speech therapy areas:
– Answering and responding to various Wh-questions
– Position Concepts/Prepositions
– Listening and Following Directions
– Comparing and Contrasting
– Describing Skills
My Bedroom Drawing  – Print the sheet and ask the child to draw a picture of his or her room. Encourage him or her to describe it, too. Ask questions like, "What color are the walls in your room?" "Do you have pictures on your wall?" "Is your room neat or messy?"
The Little Werewolf's Bedroom Drawing  – Print the sheet and ask the child to draw a picture of the little werewolf's bedroom. Encourage him or her to describe it, too. Ask questions like, "What do you like the best about the werewolf's room? Would you like a room like his? Why or why not?"
Vocabulary
Vocabulary Reminder Sheet for Home Practice – A unique way for parents and caregivers to easily incorporate the tier 2 vocabulary words into their everyday!  
Vocabulary Puzzles  – Print, laminate, and carefully cut out puzzles. Have your child try to read, or you read the words and definitions, and then have him or her correctly put the puzzles together.
Draw and Connect Puzzles –After introducing your child to the vocabulary using the vocabulary puzzles, have fun by having your child try to depict the meaning of the word by drawing a picture.
•First, cut out the puzzle pieces.
•Second, ask your child to draw a picture to represent the meaning of the word. Parody is a challenging word to depict (hint, can draw the cover of the Goodnight Goon because it's a parody of the bestselling children's book, Goodnight Moon).
•Third,  have someone else who DID not draw the pictures and, ideally, not see them being drawn, connect the drawings to the word.
Focus and Persistence  (or, just plain fun!)
Search & Find Activity – Find the objects in the little werewolf's room. Many of my clients were mesmerized by all the visually appealing (aka creepy) items in the room.
Ask the questions and have the child circle the correct answers. Visuals are provided so non-readers can participate too.
Comparing and Contrasting
Use the Venn Diagrams  – to compare the bedrooms and the books Goodnight Goon vs Goodnight Moon. A diagram with blank lines is also included so you can compare/contrast other items (e.g. a witch vs. a goon or a mummy vs. vampire).
• Listen & Follow the Directions
Listening is a vital part of communication. This is an activity that seeks to improve your child's ability to listen. It is recommended that your child has already read Goodnight Goon. The spoken directions will be related to the book as it is fair for children to have a context to support the following of more complex, multi-step directions.
• Open-Ended Articulation Practice – Pot Full of Goo
– Have your child say his or her target sound and then use a bingo marker to color each dot.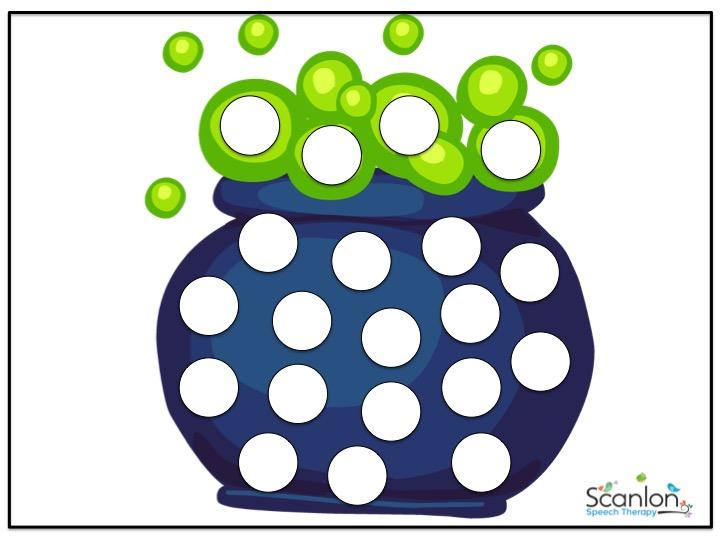 Suggestions and Adaptations  for Remote Learning Sessions – 2 New Slides added! 
If you purchase my book companion to Goodnight Goon, I hope you like it!
More extension activity ideas include:
Get some black slime and make a pretend black lagoon.

Your children/students/clients can put in googly eyes, a fish, and other creepy objects that were found in the book.
For more Halloween themed book recommendations please see:
My Favorite Halloween Themed Books for Speech Therapy
Back to blog