A Summer Speech Therapy Book: The Very Lonely Firefly
One summer evening, I was sitting in my backyard enjoying a moment of peace and quiet when I quickly saw a flash of light move across our backyard.
It was a firefly!
I reminisced about catching fireflies as a child and delighted in soon being able to do the same with our young daughter. Seeing this firefly made me realize that I hadn't seen one in quite some time.  So, I did some research and to my disappointment I learned that fireflies are disappearing in most parts of the United States.
How sad.
The environmentalist in me decided to take things into my own hands. I embarked on a quest to introduce my daughter as well as my dear clients to these unique little bugs.
*Amazon affiliate links have been included for your convenience.
My research led me to stumbling upon this great summertime book:

Seeing that this book was written by the wildly popular children's author, Eric Carle, I was shocked I hadn't read it before.
I was so excited to use The Very Lonely Firefly  during my speech therapy sessions!
4 Reasons to Use The Very Lonely Firefly in Speech Therapy
There's an element of non-fiction.
Before I start reading the book, I tell my clients a little about fireflies (what they are, why they give off light, where and when you can find them, and explain why they are disappearing in some spots). There's even this little blurb in the beginning of the book:
These fun facts facilitate comprehension. By sprinkling in facts you add to a child's information database which significantly helps him or her make connections. Knowing these facts also add to discussion and dialogue.
2. It's great for early sequencing and story re-telling.
Sequencing a story from the beginning to end drives comprehension and helps children organize their thoughts.
I made this simple story map as a visual to help some of my clients sequence and re-tell the story: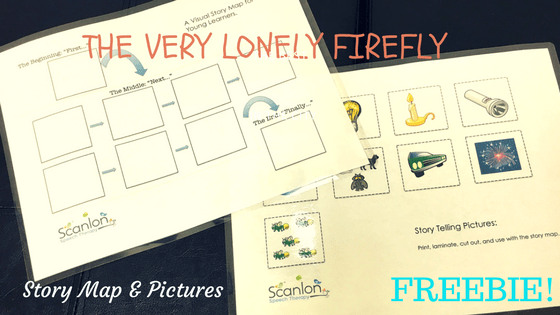 If my client is a tactile learner, I'll let him or her use this Folkmanis Mini Firefly Finger Puppet
 to re-tell parts.
Folkmanis Mini Firefly Finger Puppet
">
To spice things up, sometimes I'll play this short youtube clip of a child reading the book aloud:
3. There are repetitive sentences and phrases.
The sentence "The firefly saw a light and flew towards it." and "But it was not another firefly it was a….." repeat throughout the book.
Repetition is great for language development! When a word, phrase, or sentence repeats, it gives a toddler or preschooler a chance to participate in the read-aloud. Repetitive words, phrases or sentences also benefit children with (or suspected) childhood apraxia of speech.
Fellow speech language pathologist Ruth Morgan of Chapel Hill Snippets made a wonderful visual sentence frame freebie to further facilitate understanding. Click here to download it for free. 
Lots of opportunities to practice the "f" sound in the initial position of words.
The word "firefly" repeats, quite obviously, throughout the book making it an excellent choice for speech therapists, parents, or teachers targeting the "f" sound. For more tips and suggestions on how to target the "f" sound please read this post: Tips for Saying the F and V Sounds.
---
As always, I hope this has been helpful! Please feel feee to share this with your family, friends, students, clients, etc.
For more summer themed books please see these posts:
Ocean Themed Summer Books for Language Learning
5 Summer Books for Preschool Language Development
A Toddler Summer Book to Build Language: At the Beach
Baby Beluga: A Book and Song to Improve Your Toddler's Language
Back to blog