5 Summer Books for Preschool Language Development
 5 Summer Books for Preschool Language Development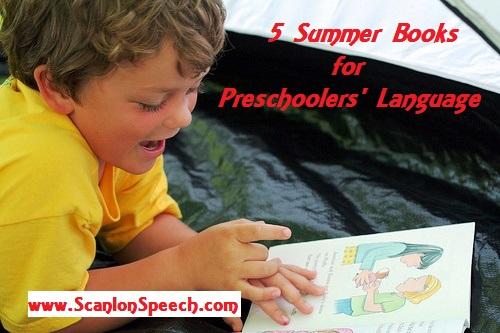 Photo Credit: John-Morgan
Ahhhh… summer time. Time for sipping lemonade, swimming, eating watermelon, building sandcastles, watching fireworks, running through sprinklers…and of course – reading books. How many of us are looking for that perfect "beach read" or "summer thriller"? I know I am! My summer reading bucket list includes: The Fault in Our Stars by John Green (2014 Update – I've read it!), Sweet Salt Air by Barbara Delinsky, and Proof of Heaven by Eben Alexander. I digress…as you can see I'm excited for summer vacation.
When I treat preschoolers, whether it's for articulation, language, or pragmatics, I always incorporate books. Books are fantastic for facilitating learning and language development. Reading exposes children to new vocabulary, stimulates their imaginations, improves their attention spans, increases their knowledge about different subjects, and promotes bonding between parents and children…just to name a few.
Here are 5 Summer Books for Preschoolers:
Summer by Alice Low
I love how this book humorously yet straightforwardly illustrates some of the fun things children can do during the summer (from eating ice cream, to chasing butterflies, to roasting marshmallows). To date, I haven't met a child who hasn't enjoyed Summer. FYI – there are 2 versions of this book – the board book (which is abridged) and the hardcover version which is longer. For the child who may have a shorter attention
span, start with the board book. Once they become familiar with the pictures and story, then read the hardcover version and see if they notice the differences. I bet they will!
Maisy Makes Lemonade by Lucy Collins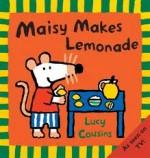 Who doesn't like drinking lemonade on a hot, summer day? This book is simple, colorful, and cute. It's great for targeting sequencing (first, next, then, last) because it shows exactly how Maisy and her friend Eddie make lemonade. For my preschoolers, who have language delays, first we read this book and then we make fresh squeezed lemonade. While making the lemonade we refer to the book if visual support is needed. For more storytelling tips and language development strategies please see my book Learning to Read is a Ball or subscribe to my newsletter to receive my FREE Early Literacy Kit.
Summer Days and Nights by Wong Herbert Yee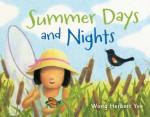 There's something nice and relaxing about Summer Days and Nights. Maybe it's the soft and fuzzy illustrations and rhyming verses? Similar to Summer, Yee's book depicts some fun summer activities and traces a little girl's summer day from the time she wakes up till when she goes to bed. It's sweet and subdued. If I'm working on vocabulary development and want to give repeated exposures to new words or concepts, I usually read Summer Day and Nights after I've read Summer and Maisy Makes Lemonade. This is because the little girl performs a few of the same activities that are in those two books. Additionally, since this book is calming, it's also a perfect to read at the end of a speech session or at the end the day.
Pinkalicious and the Pink Drink by Victoria Karr

First, allow me to preface this blurb by stating that this is the first ever Pinkalicious book I have read in this series. I was enticed by Pink Drink for two reasons.1. At any point in time, I usually have at least one female preschooler who's favorite color is pink (What color crayon do you want? Pink!!") 2. It's another book about how to make lemonade, but the story is more elaborate than Maisy's version. So, depending on the age (3 vs. 4 or 5 years old) and ability level, I read Maisy Makes Lemonade and then Pink Drink or just read one or the other. In the Pink Drink, Pinkalicious, an upbeat and resourceful young girl, ventures to make and sell pink lemonade so she can earn enough money to buy gumballs. The first time she makes the pink lemonade, she adds in very interesting ingredients to make the lemonade pink, including red onions and beets. If I'm working on categorization (fruits vs. vegetables) or adjectives (sweet vs. sour), the Pink Drink provides a good way to familiarize and target these concepts. There's also an audio edition which your child can listen and read along to.
It's Summer by Linda Glaser
This is an absolutely beautiful book. The three dimensional cut-paper illustrations are unique and seem to pop off the pages. I read It's Summer with my more advanced preschoolers and even school age clients because it goes into more depth about summer doings by supplying specific details and explanations. For instance, in addition to describing what the girl does, "I water the garden", the author lists all the different types of vegetables and flowers that she is watering.  I have been using It's Summer mainly with my articulation clients who have good attention and relatively strong language skills. However, I argue that it can also be used with the child who may need some vocabulary expansion and language stimulation.
I hope my suggestions have been helpful! What are some of your favorite summer books for young children? Please comment below!
I've written several posts on how and why I incorporate books and what types of books I enjoy for certain populations. Here are a few that you may enjoy:
Ocean Themed Summer Books for Language Learning
How to Use Books to Improve Your Toddlers' Communication
Getting Your Toddler to Say the "P", "B" and "M" Sounds
Types of Books to Improve Your Toddler's Language
Kimberly Scanlon, M.A. CCC-SLP is a speech language pathologist, an author and a mother. As the owner of Scanlon Speech Therapy, LLC, a unique boutique practice in Bergen County, Kimberly embraces individuality and treats the whole person. Her goal is to spread compassion, hope, and some speech, language and literacy tips one moment, one person at a time.  Her first book, My Toddler Talks: Strategies and Activities to Promote Your Child's Language Development
 and her her second book, Learning to Read is a Ball
 are available for purchase at online at Amazon and Barnes and Noble.
Back to blog