Ocean Themed Summer Books for Language Learning
Ever since I was a little girl, my family vacationed "down the shore". This is the term us Jerseyans use to tell others that we're going to the beach! Some of my most fond childhood memories happened on Long Beach Island.
We'll continue the tradition of vacationing at the Jersey Shore because I would like my children to create such cherished memories.
With our summer vacation right around the corner, I embarked on finding some ocean themed summer books to teach my children about the awe and magic of the seashore.
Maybe your shore is not the Jersey Shore, but if you love the ocean and want to pass on that joy, then please take a peek at these books.
Being a speech language pathologist, I've naturally added some speech, language, and literacy development tips into my book summaries.
These books can be enjoyed by preschoolers, Kindergarteners, and even children in fourth or fifth grade. Please continue reading picture books to older students and children as they delight the senses, spark the imagination, and aide comprehension.
Baby Beluga is a bit younger than the other books, and is an appropriate selection for toddlers. (Amazon affiliate links have been included for your convenience.) 
Please see my video montage for more pictures of the selected books (may want to dance too!).
Mark Astrella's illustrations are absolutely beautiful. So crisp, vivid, and realistic that Hello Ocean would even make a perfect coffee table book to spark conversations with your guests. The author, Pam Munoz Ryan, draws the reader in with her poetic verses that appeal to your five senses.
"Hello, ocean, my old best friend. I'm here with the five of me, again."
Ryan captures a day at the beach by exquisitely describing what the ocean looks, sounds, feels, smells, and tastes like.
The thoughtful prose and detailed illustrations are captivating and the reader can easily imagine what's it's like to be on the beach. If your child has never been to the ocean, Hello Ocean is the perfect way to introduce your child to it. Hello Ocean can also be read after a visit to the beach as a way to relive the experience.
Language development tip – Ask your child specific open-ended questions related to what the ocean looks, sounds, smells, and tastes like. If needed, use the pictures and verses from the book to help your child answer the questions.
What does the ocean look like?
What does the ocean sound like?
What does the ocean feel like?
What does the ocean smell like?
What does the ocean taste like?
If you're looking for some fun activities to target a child's receptive and expressive language skills, please check out this product:
---
Several years ago, a client of mine introduced me to the song Baby Beluga by Raffi (check out his The Singable Songs Collection
).
His popular song is about a baby white whale who travels the wide blue ocean with his mother. This cute and simple book brings the song to life. Once you know the song, you won't be able to read this book – you'll have to sing it!
Here is Raffi singing Baby Beluga:
Language Development Tip – Take turns describing what you and your child see on each page. This will help develop his or her vocabulary (e.g. "I see water squirting from baby beluga's spout."). This also provides opportunities to expand on your child's short phrases to complete longer, fuller sentences. For more tips on how to use this book with toddlers, please click here.
---
This is an adorable, fun-loving book with colorful illustrations. It's about a little boy who spends the day at the beach with his family. While his family is busy sunbathing, reading books, and barbequing, the little boy builds a sandcastle perfectly designed for a dragon.
"If you build a perfect sandcastle, a dragon will move in."
The little boy and dragon play together and cause lots mischief. But, is there really a dragon?  Throughout the book there are little clues to suggest that the dragon may be a figment of his imagination – once again you can decide when you read this book!
Language Development Tip –
Have your child practice re-telling the story When a Dragon Moves In. For story telling tips please see the parent guide in Learning to Read is a Ball
 or subscribe to my newsletter to receive my free Early Literacy Kit.
---
What is a flotsam?
According to Merriam Webster – flotsam is "floating wreckage of a ship or its cargo;broadly: floating debris."
The book, Flotsam, is a sophisticated wordless picture book about a science-loving boy who discovers some flotsam washed up on the beach – an old-fashioned, classic camera. Instantly intrigued, the boy develops the film from the camera, which miraculously is undamaged from being submerged in the salty ocean, and is amazed to find pictures of a magical world below the sea (i.e. mermaids in villages, mechanized fish, and octupuses chilling in a living room). Wiesner's realistic and imaginative illustrations earned him a Caldecott Award in 2007.
Flotsam conveys the intrigue that many of us have about the ocean – it's dynamic, has secrets, and stories to tell. You never really know what the ocean will do or what it may turn up. For instance, last week after a storm, this washed up on our beach: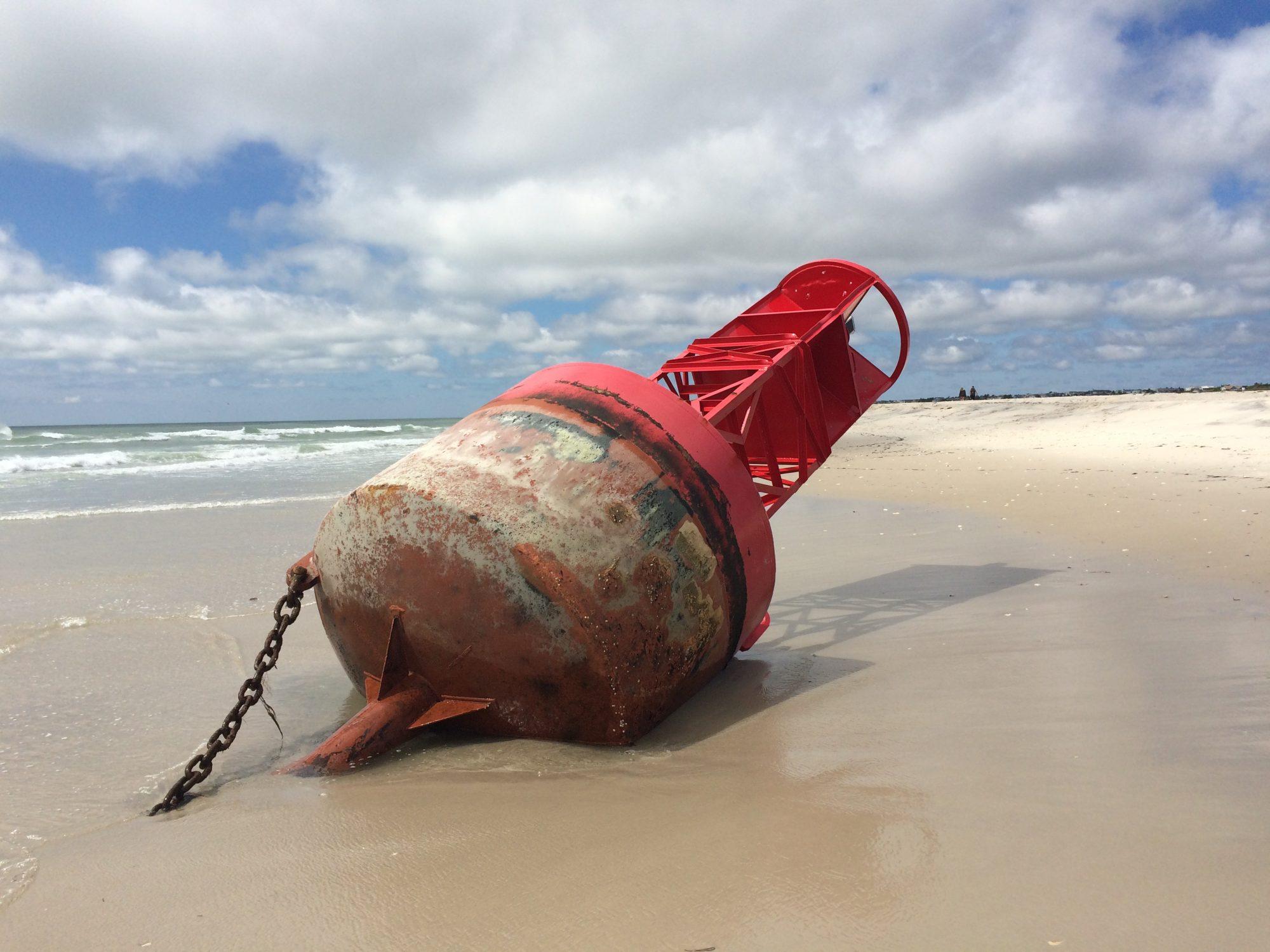 Language Development Tip:
Take a picture walk before reading Flotsam. Give your child a chance to look at all the intricate details in the pictures and see what piques his or her interests.
Since it is wordless, you tell the story first so you can act as a model for your child.
---
Do you have a favorite ocean themed book? Please share in the comments. Enjoy your summer!
For more summer themed blog posts and recommendations, please see:
In the Ocean: Receptive and Expressive Language Based Activities
7 Ways to Have a Peaceful Family Vacation
Summer Books for Preschool Language Development
A Toddler Summer Book to Build Language: At The Beach
A Summer Song and Book to Improve Your Toddler's Language: Baby Beluga
---
---
Back to blog