5 Preschool Books for Spring with Reading Tips and Extension Activities
5 Preschool Books for Spring with Reading Tips and Extension Activities
What's It About:
This 26 page board book classic is about a very hungry caterpillar who eats a lot of food in preparation for his (or her) big transformation. Hate to give it away, but the caterpillar turns into a butterfly!
Reading Tip:
Use props!! Preschoolers love hands on activities and this is especially helpful for active learners who may have a hard time sitting still. I like using the following props either during or after a repeated reading of the book:
Yes, that's an ace bandage. One of my very thoughtful clients gave me the idea when I was thinking of a way to wrap my stuffed caterpillar into a cocoon.
Extension Tips:
There are sooooo many wonderful activities to do with this book! Here are 3 of my tried and true favorites:
Make a caterpillar from a soft tube can and feed it clip art while reading the book. I love the adorable and FREE clipart images from the blog, A Sweet Fragrance and have used them myself, as you can tell from my photo. Thank you, Mrs!!
Sequencing concepts (first, next) and understanding time concepts( today, yesterday, tomorrow, days of the week etc) are some preschooler milestones (4 to 5 years old) that can be targeted with the following cute and hands-on paper craft activity from Lovely Commotion (once on her website, scroll to the bottom image). I've done this activity a bunch and it's always a hit.
Complete The Very Hungry Caterpillar Counting Floor Puzzle:

What's It About:
This 32 page classic was first published in 1982. I remember it as a child, so reading this book makes me (silently) wax sentimental about my childhood. This story is about a cute yet prideful caterpillar who boasts to a polliwog that she is going to turn into butterfly. The endearing polliwog learns that he too, turns into something else and is excited about their joint journey. All in all a very cute book. To some, the illustrations may seem dated and the colors muted, but I think it makes it all the more endearing.
Reading Tip:
There's a fair amount of text on the pages, so children with shorter attention spans may have a hard time focusing if read in one sitting. Therefore, you can break up the reading by stopping on the page where the polliwog happily states, "What fun! Let's do it together!" During the break, show real pictures of tadpoles and caterpillars. Or, ask the child what they think will happen next.
Extension Tips:
Read The Very Hungry Caterpillar, if you haven't yet!

I'm not too sure how Ann Harquail of My Nearest and Dearest did it, but she managed to discover and observe the transformation from frogspawn to tadpole to frog in a natural habitat. Her pictures are really cool! If the appropriate habitat is nearby, try to observe this transformation too!
The phrase, "When I grow up, I'm going to turn into something else" repeats in this book. I found this activity on Early Childhood News and have tried it with a few of my clients.
What's It About:
I enjoy a good rainstorm but when it's been raining for days, sometimes I get a little grumpy or blue. Does the rainy weather affect your mood? According to research published in the British Journal of Psychology, people's moods are affected by the weather. We tend to feel and think more positively and optimistically when it's sunny and dry. In this 32 page picture book, David Shannon colorfully and realistically illustrates how people's moods change from grumpy and impatient during a rainstorm to forgiving and happy with the help of a little sunshine.
Reading Tip:
This book is excellent for targeting emotions. Preschoolers are often black and white in their thinking and categorize people and characters as good or bad or believe that an action is wrong or right. Children on the spectrum can be very literal and have an additionally hard time gauging feelings and understanding the perspective of others. Since this book captures how emotions vacillate and that good, decent people can get angry but also forgive and forget. This is a very helpful read for children who have a hard time seeing the shades of grey.
I would suggest doing a picture walk first before reading the story. I do this with my clients because it gives me the opportunity to see what THEY think. Do they see the character's anger, impatience, or sadness? If they comment with "He's mad." we can discuss why they think he's mad. Ask questions like, "What do you think is happening in this picture?" After the picture walk, most children WANT to know what's happening in the story and can focus in on the details.
Read the story with emotion and act it out the verbs! If the character shouts, yells, squirms, or honks or his horn, do and perform the action. You could even have the child do it. Remember, children learn through experience.
Extension Tips:
After talking about emotions and reading the book, laminate these FREE placemats and make faces with playdough!
Since this book shows many different professionals and parts of a downtown, there are many opportunities to talk about community, places, and professions. After reading, I have my little ones put together these puzzle pieces from The Learning Journey Match It! Who Am I?:
What's It About:
This 40 page book is about how a mom and child plant bulbs, seeds, and seedlings, to grow a garden with the colors of a rainbow. The pictures are bold and a little abstract so some children may have a hard time conceptualizing growing a garden from scratch if they read this book alone. However, I like this book because it's very text oriented and perfect for those children who developing print awareness or are learning to read.
Reading Tip:
Point out new vocabulary words and talk about how a bulb is different from a seed and how a seedling is different than a seed. Have actual seeds, bulbs, etc for the children to see and touch. Children learn via experiences! Connect the reading to real life.
To increase print awareness , point to the words embedded in the text (names of the plants on the packages or stakes). Children do not realize that words are the source of the story until around the preschool years. And, it's usually only because the adult makes an effort to read using a print referencing style.
Extension Tip:
Plant some seeds and watch them grow!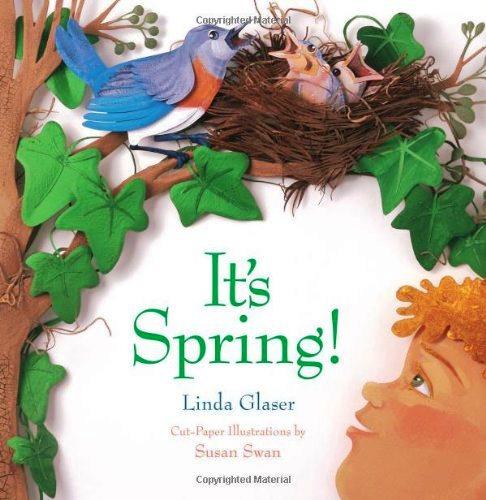 What's It About?
This 32 page beautiful picture book is all about the spring season. I like the illustrations by Susan Swan. I've even recommended her book, It's Summer, on my list of 5 Summer Books for Preschool Language Development. It's jam packed with information and appeals to nature loving folks because it emphasizes the outdoors and gives 3 pages of fun, hands-on nature activities to do in the spring.
Reading Tip:
This book introduces a lot of concepts and vocabulary that some preschoolers may not be familiar with. I prefer to break it up and focus on one concept, new vocabulary, or feature at a time.
Extension Tip:
Wanna know a Kim Scanlon fun fact (probably not, but I'll share anyway)? In college, I studied Environmental Policy. I'm a nature lover and try to incorporate a little bit of nature into each of my sessions. 
Every spring, I always make birdfeeders with my preschoolers. Click here for a step by step post on how to make a birdfeeder to stimulate language and vocabulary development in preschoolers.
References:
Howarth, E. & Hoffman, M.S. (1984). A multidimensional approach to the relationship between mood and weather. British Journal of Psychology, 75(1), 15-23.
Looking for Spring Books for Your Toddlers?
Last month I wrote a post on 5 Spring Books for Toddlers over at www.mytoddlertalks.com
---
---
Back to blog