Grouch Couch: A Great Game for Speech Therapy
It's true. We play games in speech therapy.
As a speech language pathologist (aka SLP) who has been practicing for approximately 15 years, I have accumulated an arsenal of games and toys that I joyfully use in my speech therapy sessions.
Playing games helps to create a relaxed environment to take risks and practice new skills while simultaneously having fun, building rapport, and making connections with others.
Since I play games not only daily but also multiple times a day, I've become somewhat of a game connoisseur. I only want to play high quality, well-made, fun games that I can use to target various speech and language skills. My faithful game play has caused me to develop a slight obsession with seeking out new games.
Allow me to introduce you to a game that I've recently added to my collection:
Grouch Couch by Spin Master
Game Description:
Grouch Couch comes alive by eating treats placed on its couch cushions. It makes various fun sounds like grumbles and burbs and then spits out blue coins that represent lost goodies. Because if you have children, you know that some lost goodies are hiding in your couch! Gameplay ends with a special victory song.
Recommended Ages:
Preschoolers to 2nd or 3rd grade
Why I Like Using Grouch Couch in Speech Therapy?
Quick and Easy: Time is of the essence in speech therapy; we don't have endless time to set up games and explain (and remember) complex rules. Therefore, it's necessary for us to use quick games that are easy to play in individual sessions and mixed groups.
Articulation Practice for Speech Sounds: Opportunities emerge naturally to practice many different sounds for articulation practice (aka see the articulation list included in my game companion below).
Receptive and Expressive Language Activities: For added functional impact use task cards and worksheets that I specifically created to complement Grouch Couch to target various receptive and expressive language goals for my clients. These valuable resources are available in my must-have Grouch Couch Game Companion!
The Grouch Couch Game Companion is perfect for mixed speech therapy group sessions.
This game companion was created to provide a structured yet playful way to target various articulation and language goals.
Have fun in speech therapy while simultaneously working on speech and language skills.
The game Grouch Couch is NOT included in this digital product.
This fun and functional game companion includes: *36 colorful, quick prep language flash cards and three print and go worksheets.
Use the flashcards in-between turn taking when playing Grouch Couch to target the following language concepts:
Answering Wh-Questions

Ability to answer information seeking questions and engage in the small talk of social conversations

Prepositions

Identify and explain the location of an object related to a reference

Problem Solving

Use inductive and deductive reasoning to problem solve simple scenarios

Classification – What Doesn't Belong?

Identify what object doesn't belong based on the feature(s) they have in common.

Comparing and Contrasting

Use verbal and nonverbal reasoning skills to group objects or pictures and talk about the similarities and differences
*Print on cardstock paper or print on computer paper and laminate. Then cut out each set of cards.
Have your students complete the worksheets before or after play and or give to students for homework or for caregivers and parents to review.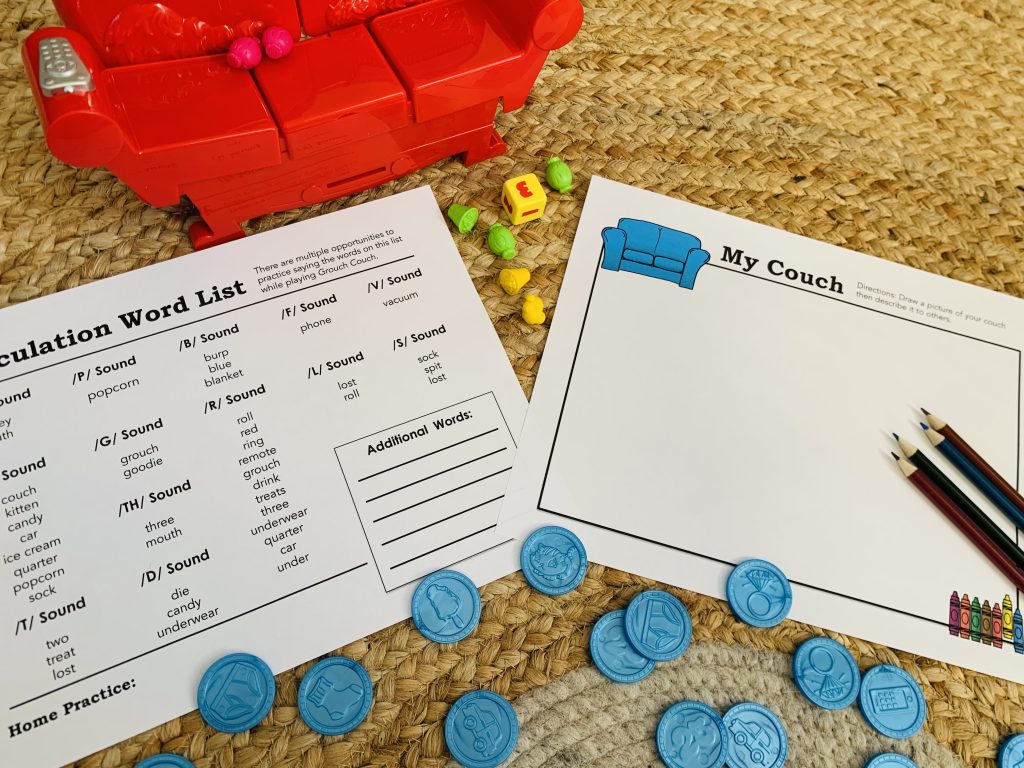 Brainstorm to Begin – Fire Up Those Synapses:
Begin by introducing the Grouch Couch to your students. Explain that this couch eats goodies like toys and socks. Ask students if they have ever lost an item, like a toy, food, or remote control under the couch or in-between the couch cushions. Making connections between real-life situations and this game will aide their understanding and make playing even more enjoyable!
Open-Ended Drawing Worksheet – My Couch
Use this worksheet to have students draw a picture of their couches and then ask them to describe it to others
They will enjoy seeing each other's creations and seeing how they are similar or different
Lost Goodies Placemat Sheet
This placemat helps students visually track how many lost goodies they have collected from the Grouch Couch
Articulation Word List Handout
Remind students to speak clearly using their target sound
Refer to this handout for words containing specific target sounds that naturally occur while playing this game. Intentionally practice them while playing as this will help with carryover
Are you ready to have fun while targeting your speech therapy goals?
Grab this awesome book companion now!
Back to blog