Hanukkah Activities for Speech Therapy
It's officially the holiday season, and Hanukkah is right around the corner! To celebrate this holiday, I've gathered up some of my favorite Hanukkah-themed speech therapy activities to share them with all of you!
Many of these activities and worksheets are from my Hanukkah Vocabulary Activities Product, which is jam-packed with fun, Hanukkah-themed activities for your child. The activities and worksheets are suitable for toddlers, preschoolers, and school-age children – modify and scaffold support as needed to meet their abilities. Amazon Affiliate links have been included for your convenience. 
Check them out below: 
Read Some Books About Hanukkah
The Night Before Hanukkah by Natasha Wing is full of rhythm and rhyme that your child will love! This book is a classic, and it's filled with a ton of Hanukkah-related vocabulary for your little one to practice.
Latke The Lucky Dog by Ellen Fischer is the cutest story about a shelter dog who joins a new family just in time for the first night of Hanukkah! Latke is so happy to be with his new family, but it turns out that he has a few things to learn in his new home. This is a fun story that involves asking/answering wh- questions, such as "Why did mom get mad at Latke?" or "What did Latke do?", making it perfect for speech therapy! 
Have your child practice their comparing and contrasting skills with the book Shmelf the Hanukkah Elf by Greg Wolfe ! In this book, Shmelf the elf discovers that there are some differences between Christmas and Hanukkah traditions. Encourage your child to make their own comparisons and contrast while reading this book, as well as practicing their Hanukkah vocabulary!
Say, Color, and Display Worksheets
Chat about Hanukkah while coloring these specially made coloring sheets. Each sheet contains pictures of the Hanukkah words for your child, student, or client to color. They are unique because there is a visual cue for the first sound of the pictured word. For instance, the lips are together for the picture of the bells. This cues children to say the word by putting their lips together. Such visuals can help your toddler see how to make the first sound in the word. Coloring these pictures is a wonderful way to intentionally target this Hanukkah vocabulary. Also, these are simple PRINT & Go Activities! 
Vocabulary Drawing Puzzles – Match Up
If you like Pictionary,  you'll love these vocabulary drawing puzzles. Take turns drawing the vocabulary words, try to guess what the person drew and then put the puzzles together!  It's a great table top activity. Encourage them to say or repeat each Hanukkah-themed vocabulary word as they pair the puzzles. 
Hanukkah Mazes
Mazes are SO much fun and they help promote a variety of different skills. Successfully getting to the end of the maze is a fun way for children to flex problem solving, sustain attention, improve hand-eye coordination, increase fine motor control needed for learning to write and build confidence. My Hanukkah Vocabulary Building Product includes two mazes with different levels of difficulty. One is called Get that Sufganiyot and another is Help the Menorah Find Its Candles. Pictures of Hanukkah associated items are encountered along the paths of the maze providing students a playful way to engage with the vocabulary words. Simply print these worksheets OR use on a white board during your speech therapy sessions! 
Play Games
Fried foots like donuts (particularly jelly donuts called sufganiygah) are eaten on Hanukkah to celebrate the miracle of the Temple oil. Fryin' Flyin' Donuts and other donut inspired toys are a festive way to celebrate the Hanukkah miracle in your speech therapy sessions. 
Make Latkes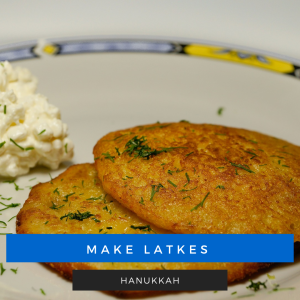 My family and I do not celebrate Hanukkah but we love latkes. These crispy potato pancakes are another traditional food eaten on Hanukkah. However, not every Jewish family makes identical latkes. Cooking is a wonderful way to target a wide variety of speech and language skills including new vocabulary words like savory, practice sequencing, following directions and much more. If making latkes is not an option in your speech therapy room or classroom, compare and contrast two different recipes. Have the children circle what is similar and underline what is different and then discuss and guess which latkes would taste the best!
If you celebrate, have a very Happy Hanukkah! 
---
Back to blog