How to Use the Napping House to Promote Language and Early Literacy Skills
If you are a parent to a young child, a speech language pathologist, or an educator, The Napping House by Audrey and Don Wood is the perfect addition to your library.
Amazon affiliate links have been included.
In this post, I'll explain how I use The Napping House
to promote various language and early literacy skills. Included, you'll see pictures of a resource I created to use with my clients. This delightful book companion is available by clicking HERE.
This 40-page book companion includes multiple activities to expand your students' vocabulary, practice storytelling, answer wh-questions, stimulate problem solving and encourage early literacy skills.
Use this book companion if you are a speech therapist or teacher and working with children from preschool to 3rd grade.
The included activities are interactive, fun, and hands-on!
Some worksheets are print and go – prepare your sessions in a snap!
Some can easily be used digitally – perfect for teletherapy
Some involve lamination and prep work but once completed, can be used and re-used – use FOREVER
Disclaimer: Please know my product is not affiliated with the author or the publishers of The Napping House. This product was designed to be used as a companion for The Napping House.
Updated 8/2/21: New Wh-Question Worksheets, What's Wrong with the Pictures Worksheets, Vocabulary Home Program – Set Reminders, Vocabulary Word Map and New Cleanly Designed Sheets for pasting the Stacking Storytelling Pieces
This is a great product to use for In-person AND remote/virtual speech therapy sessions.
How to use a picture walk to stimulate curiosity and interest by talking about the book and asking questions before reading it
How to make connections to what is read to the child's personal experiences
How to use synonyms and antonyms to build vocabulary
How to encourage storytelling
Going on a Picture Walk
I usually perform a picture walk with my clients before reading most picture books.
I ask several questions BEFORE reading the book as a way to stimulate interest and curiosity.
You can even ask your child to draw what he or she thinks the story may be about.
Making Connections
When young children read new books it is essential that we, adults, help them to activate their prior knowledge about the content or subject matter. This is especially important as they age and read more challenging narratives or non-fiction texts (particularly when they make the transition from learning to read to reading to learn). Most young children do not intuitively make connections by themselves. To learn more about making connections, please click this link to read my post and see my video.
This worksheet can assist your child in purposefully making connections to what he or she is reading to what he or she knows or what he or she has previously read about or experienced (this is prior knowledge).
Vocabulary Development
An excellent way to grow your child's vocabulary is to introduce categories of synonyms and antonyms. Introducing your child to synonyms and antonyms will help him or her to communicate with more clarity and precision. Knowing exactly what you want to say is very empowering.
The Napping House
has many synonyms for the verb sleep and the antonym for awake in the form of the adjective wakeful. They are repeated in lyrical phrases throughout the book, helping your child to remember and recite this new vocabulary.
These vocabulary-sorting mats are a fun way to further familiarize your child with these new vocabulary words. Have have your child sort the synonyms for sleep, awake, and cozy.
All my clients and my daughter LOVED putting together my vocabulary puzzles too! These puzzles encourage children to practice reciting the lyrical phrases while putting them together. FYI – The black and white images are more challenging to match up.
NEW 2021!! Vocabulary Word Map – A helpful visual organizer to facilitate vocabulary development – see the thumbnails here for more information.
NEW 2021! Vocabulary Building at Home – Set daily reminders to use the vocabulary words at home with your children. This sheet is reproducible for distribution to families.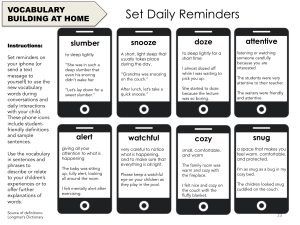 Storytelling
The Napping House
is one of my favorite books to promote sequential storytelling skills. Telling stories is an essential life skill. Those with poor narrative abilities have an increased risk for later reading problems. For additional storytelling tips, please see pages 38 and 39 in the parent guide portion of Learning to Read is a Ball
.
My book companion contains two different hands-on activities to advance storytelling skills.
Stacking Activities in color and in black and white
Storytelling Map – A story map is a visual support to help children learn important aspects in a story
Wh-Questions
2 sets of 6 different Wh-Questions about the story are posed on this worksheet.
Children can answer the questions to demonstrate their understanding of the story.
What's Wrong with this Picture
This is a worksheet that shows 6 different pictures with faulty or incorrect information. This activity asks children to explain what is wrong with the picture. Problem solving, observational skills, and language skills can be targeted in a fun way. Available in color and in black and white.
---
---
Back to blog