St. Patrick's Day Activities for Speech Therapy
I'm part Irish and green is one of my favorite colors so guess what holiday I'm excited to celebrate?
St. Patrick's Day!
With this festive holiday approaching, I've planned some fun activities that you can easily incorporate into your speech therapy sessions to target various speech and language goals.
Some of these activities and worksheets are from my St. Patrick's Day Vocabulary Building Product – it is jam-packed with fun ways to learn vocabulary associated with this holiday – 48 pages for only $2.75.
Sensory Bin
Hide vocabulary flashcards that feature words related to St. Patrick's Day in a sensory bin with beans or shredded green paper. Have your students pick up the flashcards using tongs!
Rescue Sensory Bin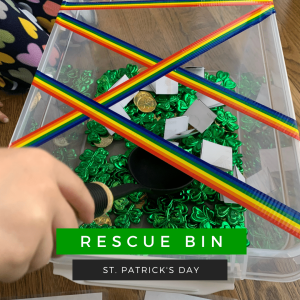 This rescue sensory bin has been an absolute hit with my clients and children! They have to carefully remove the folded vocabulary cards using a ladle or tongs without touching the "lasers".
Grab some tape, a box or bin, some vocabulary flashcards or St. Patrick's Day themed items, and a ladle or pair of kitchen tongs. I bought colorful rainbow tape from the arts and crafts store Michaels and criss crossed the tape across the top of my bin. I folded the vocabulary cards from my St. Patrick's Day Vocabulary Building and threw them into the bin. If my children accidentally hit the rainbow lasers I would make a buzz sound. After removing the folded vocabulary card they would practicing saying the word clearly or define or describe it. The speech and language task changed based on the child's goal.
Play Doh and Flashcards
Isn't it amazing how play doh can invigorate a session? Grab green play doh and some cookie cutters. Then, make a sentence about the play doh creation and the word pictured on the St. Patrick's flashcard. For instance, "The arrow is pointing to the horseshoe", "The Irish dancers want to eat some ice cream" and "The snowman is friends with St. Patrick."
Color OR Paint Some Bubbly Shamrocks!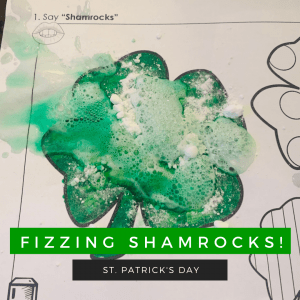 These unique Say, Color, and Display coloring sheets are a fantastic way for students to see how to make the first sound in the word – see the visual mouth cue in the top left corner?
Use crayons, markers, glitter bingo markers, watercolor paints, OR the annotation tools on zoom for your virtual leaners!
Take it up a notch by painting some Bubbly Shamrocks!
Mix baking soda with paint and paint the shamrocks with this pasty mix. Then, squeeze some vinegar on it using a dropper and watch your shamrock fizz and bubble! This is a great way to not only target vocabulary, but also sequencing (First, Next, Then, and Finally) and following directions.
Puzzles
Scatter vocabulary puzzle pieces featuring St. Patrick's Day vocabulary on a table- top or floor and watch your students put them together and say the words! I laminate the puzzle pieces so it's super easy to disinfect! Amazon affiliate links are included for your convenience.
Read some books about St. Patrick's Day
There are so many wonderful St. Patrick's Day books that explain the holiday's origin, Irish folklore, and associated traditions.
*Here are just a few:
There Was an Old Lady Who Swallowed a Clover
Jamie O'Rourke and the Big Potato
*Amazon affiliate links included for your convenience.
Make a Shamrock Milkshake
If you're looking to make something simple but tasty to celebrate St. Patrick's Day, how about making a Shamrock Milkshake?
Integrating cooking, baking, and meal preparation into speech therapy sessions is a wonderful way to target various speech, language, and executive functioning skills. This is because it's multi-sensory experience and requires SO much language. Think about all the things you DO to make a meal, snack, or treat? Many different verbs emerge in the process– like mix, stir, fry, sprinkle, taste, smell, touch. Think about how the food tastes, smells, or feels? Many different adjectives can be used! I could go on about the benefits of incorporating cooking into a speech therapy session, but that is a separate post.
Recipe card in color and black and white in my St. Patrick's Day Vocabulary Building Product
Distance Learning?
Although I prefer in-person speech therapy sessions, it's not always possible. Fortunately, there are some distance learning options to teach students about St. Patrick's Day.
I have more fun activities in my St. Patrick's Day Product – to see them check it out below – Have a wonderful St. Patrick's Day!
---
Back to blog