Vocabulary Development: How to Use a Describer Reading Style
According to research, the describer reading style greatly improves vocabulary acquisition in children, especially those with smaller vocabularies.
Therefore, if you are a parent with concerns, an educator, or a speech language pathologist, it's wise to learn how to read with a describer reading style. (Amazon affiliate links have been included for your convenience.)
What is a Describer Reading Style?
As explained in the colorful, interactive picture book, Learning to Read is a Ball:
"A describer reading style concentrates on describing pictures during the reading. This is a less demanding approach because multiple in-the-moment opportunities are available for the child to engage with the content."

from Learning to Read is a Ball by Kimberly Scanlon
Learning to Read is a Ball
is a two-part book. In the second half of the book, the attached 17 page parent guide explains how to use the picture book to skyrocket your child's language and early literacy skills.
Research has shown that using a describer reading style greatly improved the vocabulary of children with smaller lexicons. On the other hand, children with larger vocabularies benefited most from a performance-oriented style. This style is also explained in Learning to Read is a Ball.
How to Use a Describer Reading Style?
It's easy! Comment and ask questions DURING the read-aloud.
Ask your child what he or she thinks is happening at a particular point in the book.
Relate the story to your child's life so he learns to make connections to what he reads and what he already knows or has experienced.
Ensure the exchange is enjoyable for the child and the adult
There are really no bad questions. More and more research shows it's important for parents and caregivers to be responsive to their children's questions and comments. Thus, the book reading experience shouldn't become a testing or quizzing endeavor. It should be mutually enjoyable. If the child feels he's being tested with an array of questions that demand a correct answer, he or she will not gain the benefits of joint reading. Also, if the parent or caregiver feels overwhelmed and views it as work, then this adult is less inclined to make the book reading experience enjoyable.
This picture is taken from the Parent Guide of Learning to Read is a Ball:
As you see, the describer reading style is defined and compared to the performance-oriented reading style.
This second picture provides many examples on how to implement it to enhance your child's vocabulary while reading this fun-loving book.
How will you incorporate this style next time you cuddle up and read to your little one?
In this video, I demonstrate how to use a describer style. Please take a peek!
If you found this video helpful, please share with family and friends or click the like button. A little encouragement keeps me going. Thank you!
---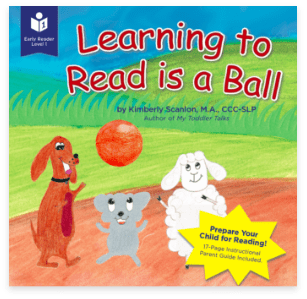 Back to blog