Simple Halloween Activity: Following Directions with Stickers & Crayons
Boo!
Here's a super simple but FUN Halloween activity to target following directions.
And the best part – Only 3 items required!
Feel free to alter directions based on your child's or student's ability.
Materials:
Assortment of Halloween Stickers
Paper
Crayons or markers
Targeted age: Preschool
Procedure:
Draw a picture of a haunted house and add in some scenery like a tree, a moon, grass etc. Have the child color the picture.
If he knows his colors, give specific instructions such as:
Color the house black and the windows yellow.
Draw a tree next to the house.
Once the picture is colored, introduce your stickers. Lay them out and label each one. By doing this, you're ensuring that the child knows the correct name. This is important because some children may think a pumpkin is an apple or that a ghost is a sock (Believe me, I know from experience that this may happen).
Next, give verbal directions. To build confidence, I like to alternate easy directions (e.g. put the bat in the sky) with harder ones (e.g. Put something that flies next to the bottom window – pretty tough eh?!).
Some Concepts to Possibly Target:
Prepositions and spatial concepts – In, on, under, between, next to, etc. (e.g. Put the ghost between the tree and the house.)
Sequencing – First…then. (e.g. First put the bat in the tree, and then color the window yellow.)
Adjectives – – big, little, happy, sad, etc. (e.g. Put the happy ghost next to the big pumpkin).
Tips:
For children who have difficulty following directions:
Keep the field limited to one or two or three stickers and give them one basic direction to follow.
For instance: Pick up the ghost.
For children who need more of a challenge:
Increase the field by laying out several stickers (e.g. 4 or more) and give them an expanded two step command to follow.
Interested in reading some fun Halloween books while targeting some language skills? Check out my post – Halloween Books for Preschoolers: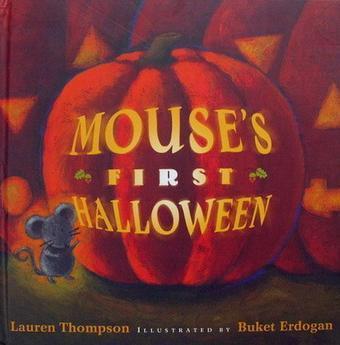 Have a very Happy Halloween!
Kimberly Scanlon, M.A. CCC-SLP is a speech language pathologist, an author and a mother. As the owner of Scanlon Speech Therapy, LLC, a unique boutique practice in Bergen County, Kimberly embraces individuality and treats the whole person. Her goal is to spread compassion, hope, and some speech, language and literacy tips one moment, one person at a time.  Her first book, My Toddler Talks: Strategies and Activities to Promote Your Child's Language Development
 and her her second book, Learning to Read is a Ball
 are available for purchase at online at Amazon and Barnes and Noble.
Back to blog