Easter Activities for Speech Therapy
Easter is right around the corner! This holiday is the perfect time to practice spring-themed vocabulary with your students! As the cold winter melts away and new life begins to flourish, our children hear birds chirping, see flowers blooming, and enjoy the warm sunshine. Not to mention, they love searching for hidden Easter eggs and uncovering the prizes inside of them!
To celebrate this holiday, I've compiled some fun activities that you can easily incorporate into your speech therapy sessions to target various speech and language goals.
Many of these activities and worksheets are from my Easter Vocabulary Building Product, which is jam-packed with fun ways to learn spring-time vocabulary associated with Easter.
Read some books about Easter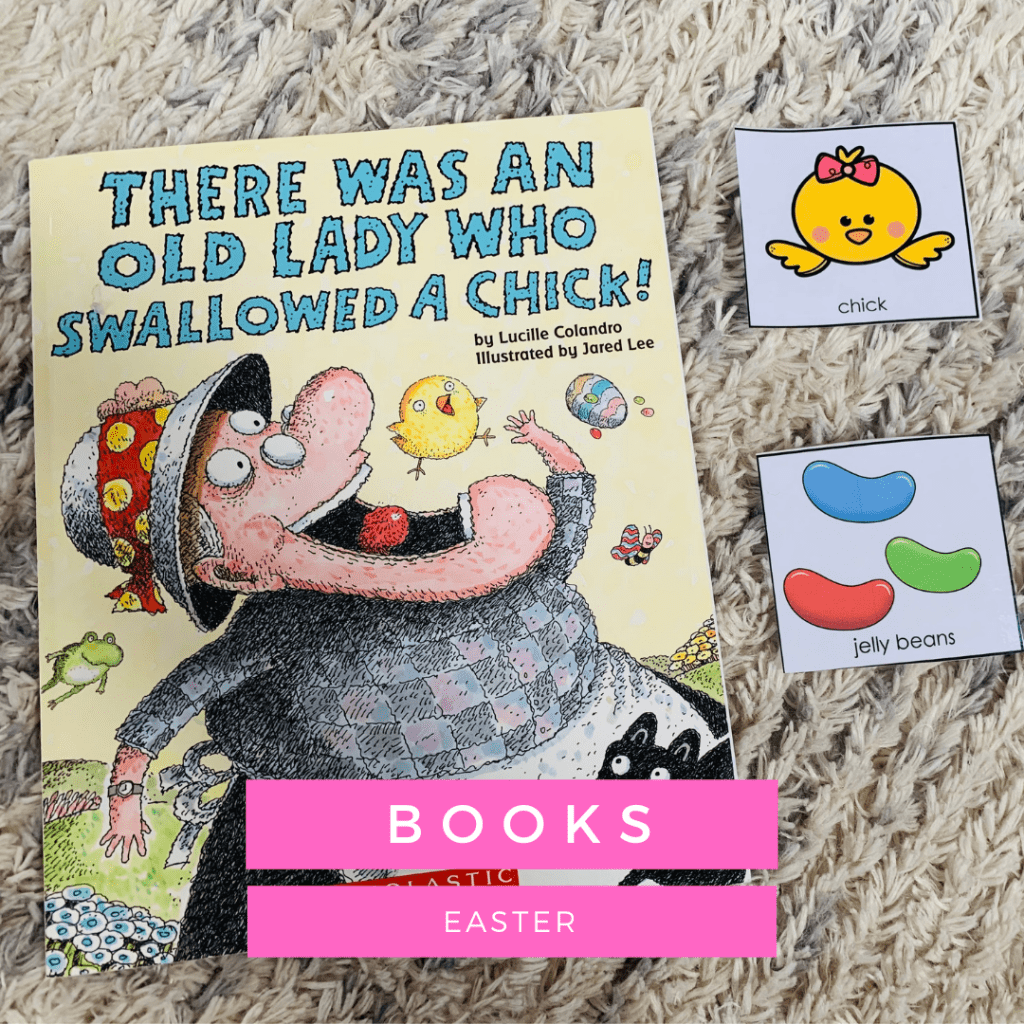 "There was an Old Lady who Swallowed a Chick" by Lucille Colandro is a silly Easter twist on the classic "There Was an Old Lady" children's book. Your students will love reading this crazy book with you! (Amazon affiliate link included for your convenience.) Those cards next to the book are from my Easter Vocabulary Product.
Say, Color, & Display
Grab some crayons, colored pencils, or markers and get coloring! These unique Say, Color, and Display coloring sheets are a fantastic way for students to see how to make the first sound in the word – see the visual mouth cue in the top left corner? Encourage your student to say phrases or words such as, "This Easter egg is blue." Have fun decorating your pictures and post them around your house as decorations when you're finished.
Puzzles
Scatter vocabulary puzzle pieces featuring Easter vocabulary on a table- top or floor and watch your students put them together and say the words! I laminate the puzzle pieces so it's super easy to disinfect.
Print and Go Worksheets
Print this worksheet and give to students to cut, solve, and then glue the correct vocabulary word to the riddle. It's an ideal homework assignment or can be used in your speech therapy session when you're having a busy day and need something easy to implement – just print and go!
Play Some Games
Full and honest disclosure – I play Jumping Jack and Bunny Hop throughout the year and if you are a speech language pathologist, I STRONGLY encourage you to buy these games for your office. My clients love the element of surprise. Variable reinforcement is highly effective for increasing a certain behavior. For my articulation clients, we take turns playing one of the games and practicing saying our sounds and for my early language learners, these games are extremely productive for encouraging various prepositions and early locatives (e.g. in, on, down, up) and verbs (e.g. push, pull, watch out, look, watch).
Hopping Bunnies
Several years ago, I founded these adorable (or perhaps goofy looking) bunnies at my local grocery store and each year I break them out during the Easter season.
Push down on these bouncing bunnies and watch them hop around the floor! Teach words like, "hop", "bunny", and "bounce" to your students as they watch these toys hop around.
Finger Puppets and Easter Eggs
Get creative and hide some cute, plush finger puppets inside Easter eggs. Have your student open each egg and say what kind of animal they get!
Or, take it to the next level and sing that wildly popular finger play, "Daddy finger, Daddy finger Where Are You?"
And for an even more fun and exciting game, hide these Easter eggs around the room, having your student search for them!
Distance Learning Activities
Although I prefer in-person speech therapy sessions, sometimes, that's not always possible. Fortunately, infusing short video clips from youtube can add value to an online therapy session. The key word is SHORT videos. I try my best to make the video watching an engaging experience, pausing the clip to ask questions and to summarize main points. I made this short and sweet YouTube video that goes through an Easter basket activity!
If you need MORE speech therapy activities and worksheets related to Easter, please see my full Easter Vocabulary Building Product on my TPT page!
Related Resources:
Growing Year-Long Holiday Vocabulary Bundle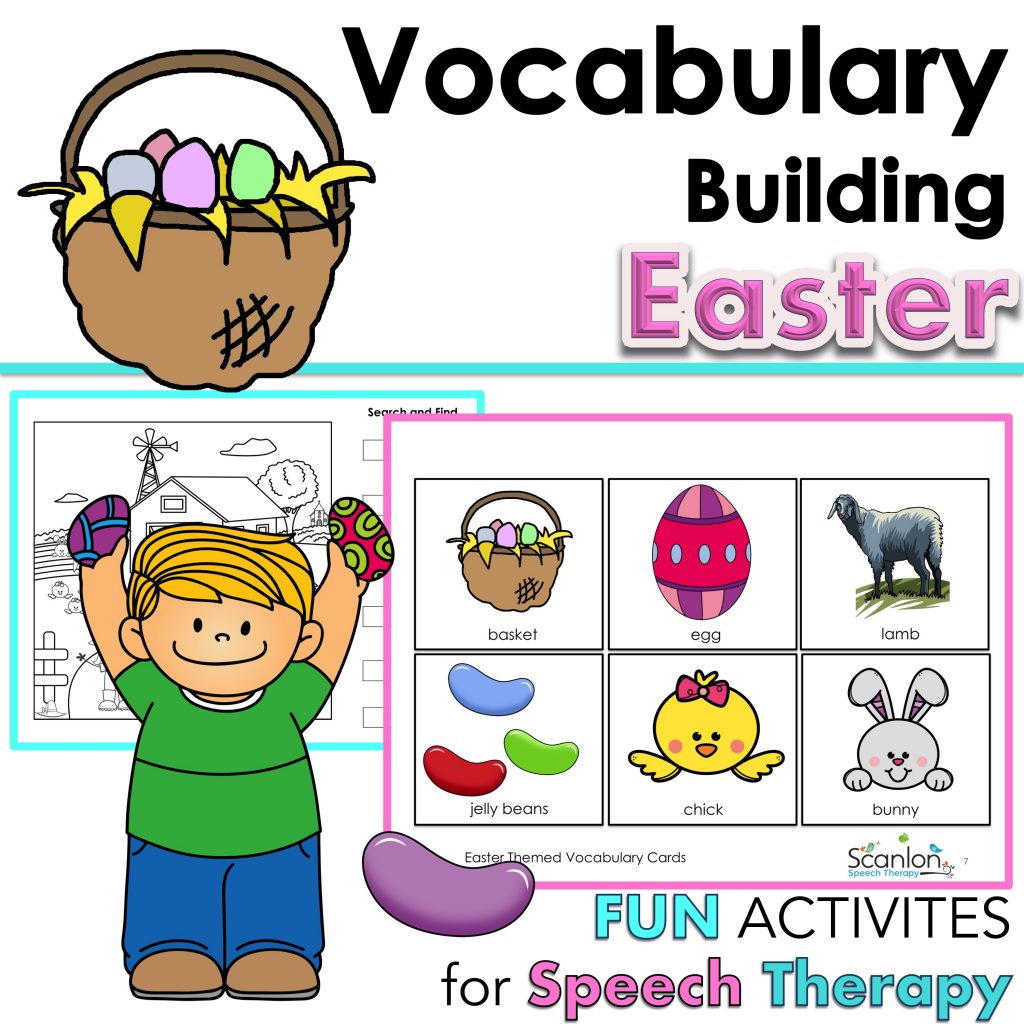 Back to blog