17 FUN Ways to Use Articulation Flashcards to Get Multiple Repetitions
Eliciting multiple repetitions of target speech sound(s) is important in developing articulation skills.
According to a systematic review of 5 research articles, the available evidence suggests that "…high-frequency (Allen, 2013) individual sessions with a dose of at least 50, but preferably 70 or more, trials per session (Williams, 2012) may be most effective in treating this population" (Roepke, E., Greenwell, T., et al., 2019). This population being children with speech sound disorders.
Since getting a high number of trials in a short amount of time is deemed evidence-based and effective in treating speech sound disorders, how can we elicit 70 or more, trials each session in an engaging manner?
I've come up with 17 different ways to use articulation flashcards in a fun, hands-on, engaging manner to get MULTIPLE repetitions.
The articulation flashcards featured in this post are available in my teachers pay teachers store.
These flashcards are unique because visuals are included so that the children/students/clients can see how to position the tongue, teeth, or lips as needed.
Here are 17 playful ways to use articulation flashcards to elicit multiple repetitions – they can be used for in-person and modified for virtual speech therapy sessions!
Say and Click – Use a clicker to count the number of times the child/student says the target sound. For some reason, kids find the clicking sound satisfying and many like to see the number of clicks they achieved. *Amazon affiliate link included.
Say and Slide – Use an abacus and have the client slide the bead across the row each time he or she says the target sound while looking at the flashcard. *Amazon affiliate link included.
Say and Do Yoga – Incorporate yoga or Gross Motor Movements while saying the target words. For instance, say the word 5 times while holding a warrior pose. I like to pair my articulation flashcards with my yoga flashcards!
Say and Make a Pattern –Simple way to make saying the target sound and placing the flashcard down strategically to say a sound. Can make a square, a diamond, or a letter or number…
Say and Sort into a Category – My articulation flashcard bundle includes several category sorting mats. However, you can make your own with some index cards and adjust based on the needs of your students (e.g. preschoolers, sort by size, shape, or color). Have the student say the target and then place into the most appropriate category.
Say and Squeeze – Say the word then squeeze a clothespin on the card. This is great for keeping children focused and engaged. I learned this trick from fellow speech language pathologist, Cari Ebert – thanks, Cari!
Say and Squish – Say the word then stick the card in some play dough OR roll some little play dough balls and have the child/student squish each ball after they say their target! Tactile fun.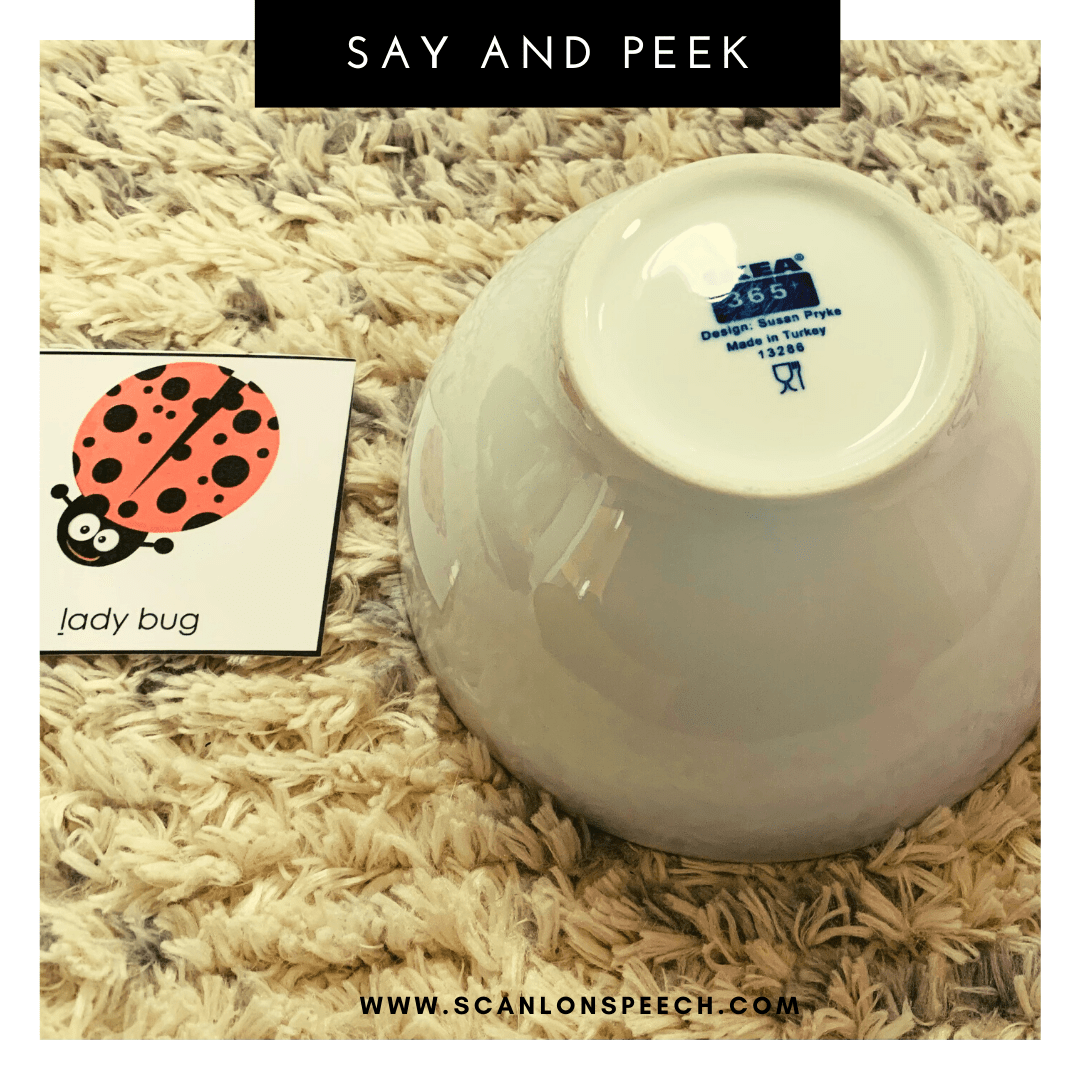 Say and Peek – What's Under the Bowl Or CUP? This is like Memory but there are fewer cards and extra intrigue! For some reason, seeing the hidden card is just thrilling!
Say and Stack – say the sound with the target word and then stack blocks to make a tower. To make it extra fun, I place the flashcards in between the blocks. After building a tall tower, I carefully pull a card without knocking down the tower and say the target sound! This is a super fun activity and GREAT for virtual speech therapy sessions.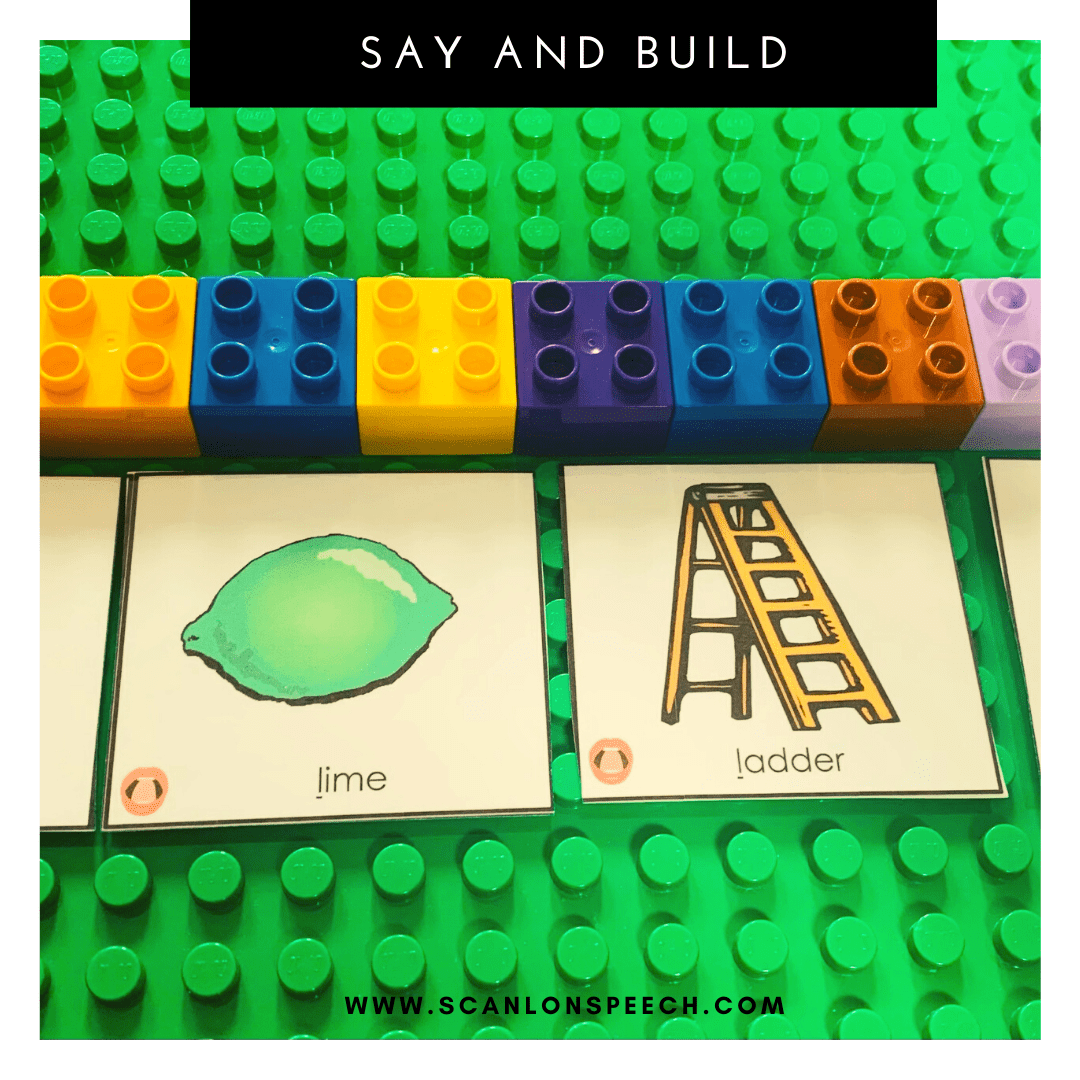 Say and Build – Using Legos allows the child to build a Lego tower or Lego road while practicing his or her sounds. After each trial, the child earns a Lego piece.
Say and Fill – ask the child/student to say the target, then drop an object into a jar. Can alter what they drop inside based on the season or holiday. For instance, for Valentine's Day, the child or student can drop wooden hearts into the jar and on St. Patrick's day, they can drop in shiny Shamrocks.
Roll and Say –this is something I learned many, many years ago in graduate school. Have the student roll the dice and say the target word that number of times. For instance, if he rolls a 6, he has to say the target sound or word 6 times. This can easily be incorporated into any speech therapy game or activity.
Roll Away and Say – disperse a few articulation cards on the floor or on the table and use a lint roller to pick up the cards. Say the target sound/word while removing it from the lint roller or while picking up the card with the link roller.
Say and Stick – grab some sticky paper and tape it to a nearby wall or on the table or desk. Each time the child/student says the target word, have her stick the flashcard onto some sticky paper. The sticky paper turns a simple articulation activity into a tactile, sensory experience! Heighten the thrill factor even more by adding in other objects like leaves, construction paper, magazine/newspaper clippings, etc and stick them onto the sticky paper too! * Amazon affiliate link included.
Say and Play – Use the articulation flashcards and play memory. Keep it simple.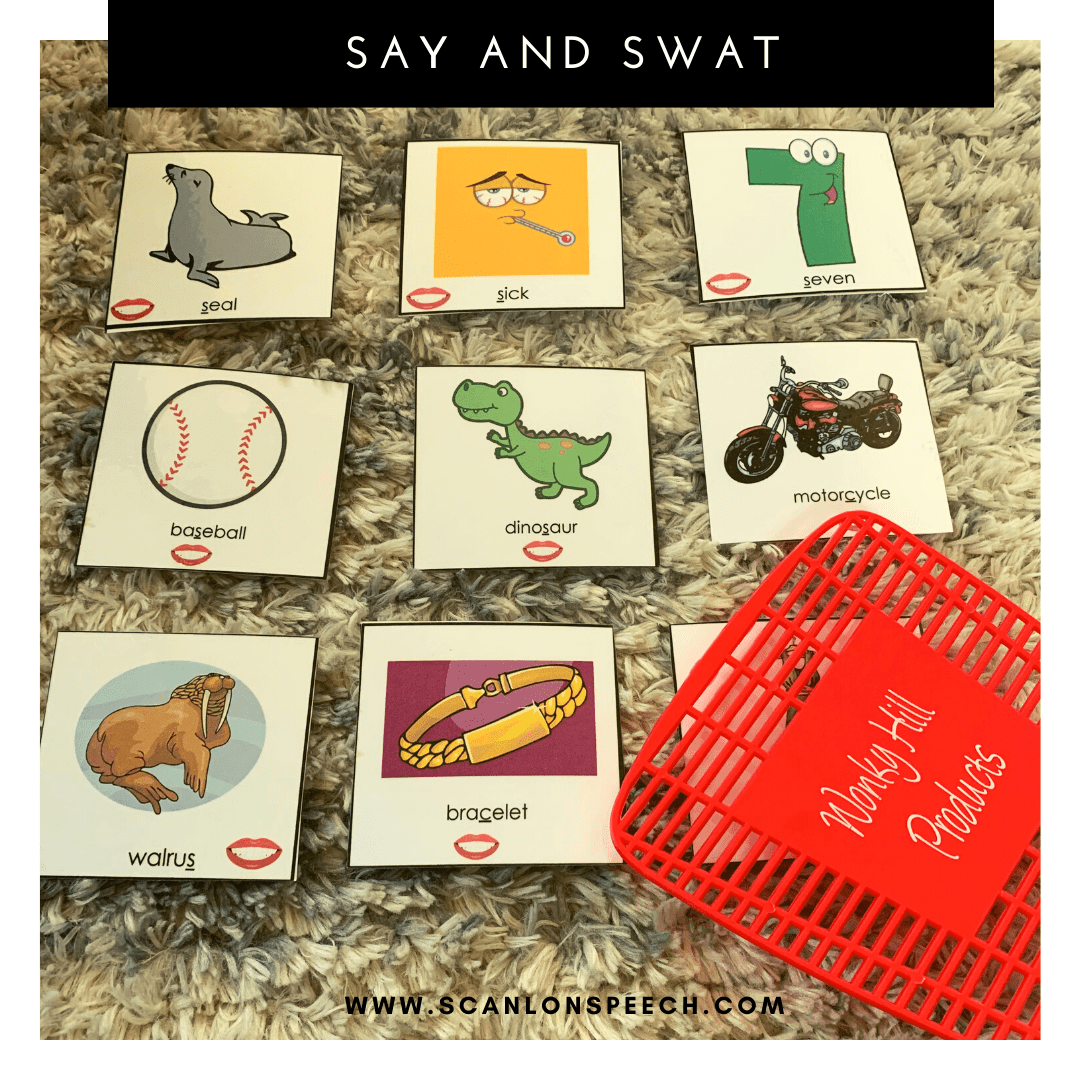 Say and Swat – (this is best done in a pair or a small group) scatter some articulation cards on the table and have the student call out a word while the other student swats the card with a fly swatter. See who can swat the most amount of cards in one minute.* Amazon affiliate link included.
Search and Say – Have a Scavenger Hunt! Hide the cards in your office or room and have them find them. They have to say what they found when they found them. This is a great activity for when a child has been sitting for too long. Get them movin' & groovin' For added excitement – give them a flashcard and turn off the lights!!
Hopefully, these ideas help you to elicit multiple repetitions of target sounds in an effective yet fun way!
Stay tuned, I'll be adding to this list as inspiration hits. Please subscribe to my newsletter for free resources and updates.
My best-selling Articulation Flashcards are available in my teacherspayteachers store. Please click the images below to see which product is best for you!
Back to blog