Irresistible Speech Therapy in Bergen County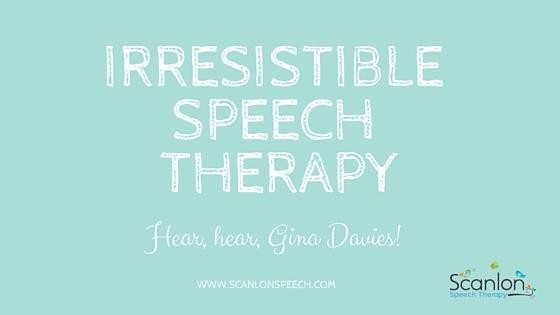 I recently discovered an inspirational presentation by a charismatic speech language pathologist named Gina Davies. In it she implores her audience to ask themselves:
"Is My Therapy Irresistible?"
Here are some takeaways from Gina's quick but impactful presentation:
"Therapy should inspire attention."
"When there is attention communication can start."
"Take a risk with me because I'm going to take a risk with you."
"If a child is really focused and engaged in an irresistible activity whatever speech and language goals you infused into that activity will be what that child remembers."
"Is my therapy worth communicating about? Interesting things are worth communicating about."
"Make therapy worth the effort. "
"You must be in it with the child – have fun together!"
Like, Gina, I believe speech therapy should be an enjoyable and fun experience. Gina did a fantastic job inspiring thought and reflection from her listeners. Thanks Gina for further reinforcing and validating my beliefs and for further inspiring speech therapists around the world!
Back to blog