Help My Child to Read Series: Preschool Alliteration Books
Help My Child to Read Series: Preschool Alliteration Books
What Is Alliteration? As I define in the parent guide of my book, Learning to Read is a Ball
alliteration is:
"The repetition of the same sound at the beginning of words in a phrase, sentence, or story."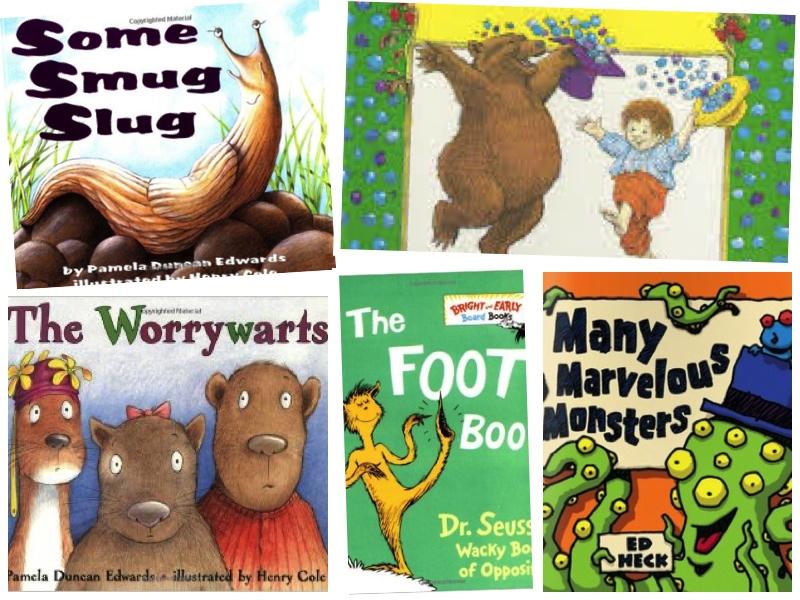 Here are some examples of alliteration:
"Cathy caught a cute cat. " "Lucy licked lollipops." "Matthew made a mess."
Tongue twisters are perfect examples of alliteration.
"Peter Piper picked a peck of pickled pepper.
Some well known clichés like, "a dime a dozen", "cool, calm, and collected", "the more the merrier" and "best buddies" are also alliterative. Notice how these examples include consonants in the initial position of words? I recommend starting to focus your child's attention on the alliteration of consonants, before vowels, as they are initially easier.
What's So Great About Alliteration?
Alliteration provides an effective way to promote sound awareness in words. A sound that repeats throughout a phrase, a sentence, or a story is likely to get noticed. This heightened awareness of individual sounds helps children realize that letters make sounds (Alphabetic Principle). When children know that letters make sounds, they are more likely to have success in the early stages of reading. Of course, alliteration isn't the only skill that is required in learning to read (rhyming, phonics, print awareness, sight words etc.), but it is certainly helpful and necessary. Studies also show that alliteration aides in memory and comprehension (Psychologicalscience.org).
 "Besides supporting early literacy, rhymes and alliteration can soothe, entertain, and foster a positive attitude toward reading." (LeFebvre, 2004)
---
Some Alliterative Books I Use During My Speech Therapy Sessions
*Amazon affiliate links included for your convenience.
The Worrywarts
 by Pamela Duncan This is a super cute alliterative story about a wombat, a weasel, and a woodchuck. They wonder about the world and decide to take a walk to wander the world. This wondering leads to a wild adventure with a lot of words that start with "w". My own daughter loves this story and keeps asking me to read it. Warning – it's a bit of a tongue twister.
Many Marvelous Monsters
 by Ed Heck A simple board book loaded with alliteration. It shows goofy monsters, I mean marvelous monsters, performing silly acts during a talent show.
"Marvin the Magnificent magically makes many multicolored mice move!"
Some Smug Slug by Pamela Duncan Edwards Since this book is highly recommended as being helpful in introducing alliteration, I borrowed it from the library. Initially, I didn't like it. Maybe because I find slugs revolting and the illustrations a bit too realistic? Hence, I couldn't imagine this smug slug being cute. The vocabulary was also pretty advanced, with words like shattering, scurrying, straggling, skewing and even shantung. Then, after reading it a few times and incorporating it into some sessions, I decided Some Smug Slug could be a great book to use with children who like bugs (particularly slugs). It's also perfect for eliciting repeated production of /s/ in the initial position of words for those who have an /s/ sound distortion. However, since the vocabulary is advanced and sometimes awkward, I would use the 5 Finger Rule to ensure that it's a good match for your child or a child on your caseload.
Jamberry 
by Bruce Degen
 "One berry, two berry, pick me a blueberry."
Here's a book that I can recite in my sleep. I LOVE this book. It has rhyme; it has alliteration, an infectious little beat (also known as meter) and a happy little boy and bear who are having a ball with all these berries. If you've had a bad day, read Jamberry. It will make you smile.
The Foot Book: Dr. Seuss's Wacky Book of Opposites
by Dr. Seuss There's no plot or story line in this book. It's all about feet.
"Small feet, big feet. Here come pig feet."
The repetition, the rhyme and the subtle alliteration make this a joy to read aloud. I particularly like it for early readers because they can use the pictures to help them "read" along.
Some more posts you may like:
10 Print Salient Books to Help Your Emerging Reader
Toys and Games to Promote Your Preschoolers Speech, Language, and Cognition
Preschool Bird Feeder Activity 
What are some of your favorite preschool alliteration books?
References:
LeFebvre, Joan. Rhyme and Alliteration. 1st ed. University of Wisconsin-Extension, 2004. Web. 7 Mar. 2015.
Psychologicalscience.org,."The Power of Peter Piper: How Alliteration Enhances Poetry, Prose, and Memory-Association for Psychological Science".N.p., 2008. Web. 7 Mar. 2015.
---
Kimberly Scanlon, M.A. CCC-SLP is a speech language pathologist, an author and a mother. As the owner of Scanlon Speech Therapy, LLC, a unique boutique practice in Bergen County, Kimberly embraces individuality and treats the whole person. Her goal is to spread compassion, hope, and some speech, language and literacy tips one moment, one person at a time.  Her first book, My Toddler Talks: Strategies and Activities to Promote Your Child's Language Development
 and her second book, Learning to Read is a Ball
 are available for purchase at online at Amazon and Barnes and Noble.
Back to blog