Speech Therapy: 10 Inspirational Quotes for Children
Speech Therapy: 10 Inspirational Quotes for Children
The beginning of the school year brings renewed hopes and reenergized spirits. When I was a young girl, this fresh start always motivated me to give it my all and try my very best. Many of my classmates, their parents, and our teachers felt the same way. Even though, I'm no longer attending or working in a school, this change of seasons still has a similar impact on me.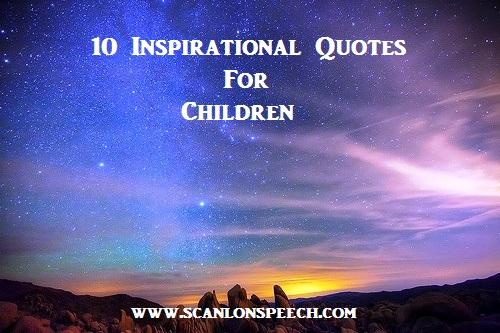 Photo Credit: Eric 5D Mark III 

If you have read any of my posts from Scanlon Speech or My Toddler Talks, you may have noticed that I enjoy sharing inspirational quotes. I believe that reading such quotes gives us the power to overcome negative thoughts and to endure challenging situations while warming our souls and melting our hearts.
Children are no different than us. They have anxieties, good days, bad days, hopes, dreams, and ambitions. They need motivation and inspiration as much as we, adults do.
To extend my motivation to you and your children, I'm sharing 10 inspirational quotes "spoken" by some of my favorite children's characters and role models. I did this purposefully because I wanted the child to be able to relate and connect with the "author" and be further motivated by their wisdom.
Here are some of my favorite quotes to keep you striving to have a wonderfully productive school year!
"You're off to Great Places! Today is your day! Your mountain is waiting, so…get on your way!" – Dr. Seuss, Oh, the Places You'll Go!
"Everyone has inside of him a piece of good news. The good news is that you don't know how great you can be! How much you can love! What you can accomplish! And what your potential is!  – Anne Frank, Anne Frank: The Diary of a Young Girl
"The moment where you doubt you can fly, you cease for ever being able to do it.  – Peter Pan
"If a man is called to be a street sweeper, he should sweep streets even as Michaleangelo painted, or Beethoven composed music or Shakespeare wrote poetry. He should sweep streets so well that all the hosts of heaven and earth will pause to say, 'Here lived a great street sweeper who did his job well."- Martin Luther King, Jr.
"And above all, watch with glittering eyes the whole world around you because the greatest secrets are always hidden in the most unlikely places. Those who don't believe in magic will never find it." – Roald Dahl, The Minpins
"I've got a dream too, but it's about singing and dancing and making people happy. That's the kind of dream that gets better the more you share it with."    – Kermit The Frog, The Muppet Movie  
"If you could only sense how important you are to the lives of those you meet, how important you can be to the people you may never even dream of. There is something of yourself that you leave at every meeting with another person." – Fred Rogers,The World According to Mister Rogers 
"If you can dream it, you can do it." – Walt Disney
Hope these quotes inspire you and your children. Have a fantastic school year!!
For inspirational quotes for parents, click here.
Kimberly Scanlon, M.A. CCC-SLP is a speech language pathologist, an author and a mother. As the owner of Scanlon Speech Therapy, LLC, a unique boutique practice in Bergen County, Kimberly embraces individuality and treats the whole person. Her goal is to spread compassion, hope, and some speech, language and literacy tips one moment, one person at a time.  Her first book, My Toddler Talks: Strategies and Activities to Promote Your Child's Language Development
 and her her second book, Learning to Read is a Ball
 are available for purchase at online at Amazon and Barnes and Noble.
Back to blog