Spring Flowers: Arts and Crafts Activity for Toddlers and Preschoolers
Spring has sprung! And, so have many beautiful flowers. Here's an easy but fun arts and crafts activity for your toddlers and preschoolers. I have designed it to facilitate speech and language skills. Some helpful tips and strategies to stimulate vocabulary development are also included.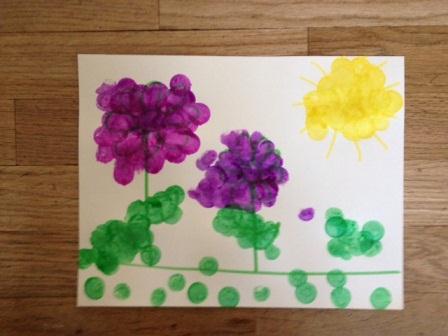 How to Color Flowers with Bingo Markers
Materials:
Bingo markers
Regular markers
Paper
Procedure:
Draw a flower. Include its petals, stem, and leaves. Keep it simple and make the parts easy to identify. This is especially good for children who need help in identifying parts from a whole. As you are drawing the flower, narrate what you are drawing (TIP # 1). For instance, "I'm drawing a flower. Now, I'm drawing the leaves…the petals…stems….etc." This may seem obvious, but it's amazing how quiet some parents are when they are playing with their children. If you're expecting a child to verbally communicate, it's important to use language during these intimate experiences because it teaches them that communicating is fun and exciting! Be animated and add inflection to your voice (TIP #2) – especially when introducing new vocabulary. For instance, if you are drawing the stem, stress the new word to alert your child's attention to it (e.g. "I'm drawing the stem". Repetition is also important. Children need multiple repetitions (TIP #3) and various contexts (TIP #4) to fully understand the meaning of a new word. Enriching, hands-on experiences and multiple yet different interactions really help the child to fully understand. I'm not a huge fan of using flashcards for younger children, like toddlers, because they are one-dimensional and can be easily misunderstood. So, repeat new vocabulary many times during the activity ("I drew the stem." "The stem is green". "The stem is long."). Then, after the activity, take the child on a stroll through your backyard or neighborhood and point out flowers and name their various parts. Lastly, avoid asking the child too many test-like questions (TIP #5) – "What's this?" or "What's that?". Children are usually pretty aware that you are "testing" them and it takes the joy out of learning new things.  Once you have drawn a flower (or two or three or more flowers) let the child "color" them with the bingo markers! It can look something like this – colored by me or like the picture above – colored by a 33 month old boy:
 Possible Target Words:
Nouns                        Verbs             Adjectives/Attributes
Flower/s                      Grow               Big
Stem                            Draw               Little
Petals                          Water              Pretty
Leaves                         Smell               Long
Sun                              Touch              Short
Summary of Tips:
1: Narrate your actions (Feel free to narrate your child's actions too!)
2. Be animated and add inflection to your voice
3. Provide multiple repetitions
4. Expose the new word in various settings and contexts (see extension activities for examples)
5. Avoid asking too many "test-like questions". Two words: NOT FUN!
Extension Activities:
Go on a nature walk
Arrange some flowers in a vase
Plant a flower in the yard or grow some seeds in a cup
Kimberly Scanlon, M.A. CCC-SLP is a speech language pathologist, an author and a mother. As the owner of Scanlon Speech Therapy, LLC, a unique boutique practice in Bergen County, Kimberly embraces individuality and treats the whole person. Her goal is to spread compassion, hope, and some speech, language and literacy tips one moment, one person at a time.  Her first book, My Toddler Talks: Strategies and Activities to Promote Your Child's Language Development
 and her her second book, Learning to Read is a Ball
 are available for purchase at online at Amazon and Barnes and Noble.
Back to blog